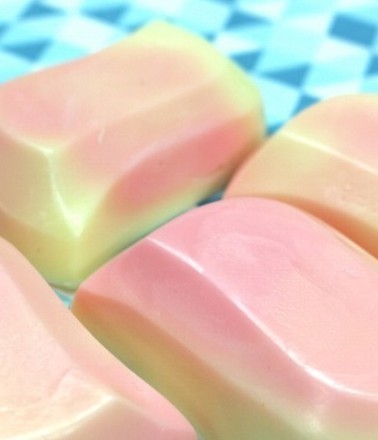 A fun, swirly summertime soap that will be so scrumptious you'll have to make enough for everyone you know! Using our refreshing Watermelon Lemonade Fragrance Oil and our rich, delightful Stonefruit Fragrance Oil you'll enjoy layers of summertime scents. Our Gel Colors are perfect for a quick and easy melt and pour soap recipe. Soap making has never been so easy!
*Makes four 4 oz. bars
Ingredients:
15.5 oz. Stephenson white melt & pour soap
1 wave soap mold (with 4 cavities)
Two large glass measuring cups
1/4 oz. TFC Stonefruit fragrance oil
1/4 oz. TFC Watermelon Lemonade fragrance oil
Melon gel color – 4 drops
Lemon gel color – 5 drops
A couple of spoons to stir soap (we use wooden spoons)
Paper towels
Two candle/soap thermometers
Steps:
1. Weigh soap and put into two bowls with 7.75 oz. of soap in each.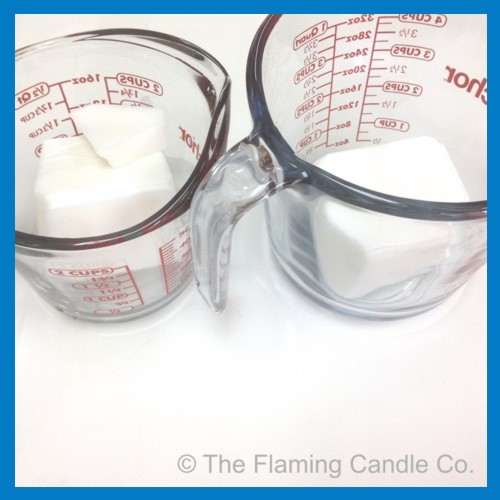 2. Pre-weigh ¼ oz. of each fragrance in small shot glasses and put to the side for later.
3. Have your gel colors, thermometers, spoons and paper towels handy.
4. Put both bowls/measuring cups into microwave and begin melting soap in increments of 45 seconds each in microwave. It took us five times before most chunks were melted. We then stirred and microwaved an additional 45 seconds.
5. After removing from microwave, stir to ensure all chunks are melted.
6. First bowl: Insert thermometer. Add 5 drops of lemon gel color and add ¼ oz. of Watermelon Lemonade fragrance oil (by weight) and stir.
7. Repeat steps with the second bowl of soap using second thermometer, melon gel color and Stonefruit fragrance oil. Stir.
8. Check thermometers. Soap will begin to form a crusty layer on the top at about 145°F. You can stir to dissolve this. Be careful not to go below 135-140°F as soap can seize up easily and harden at this temp.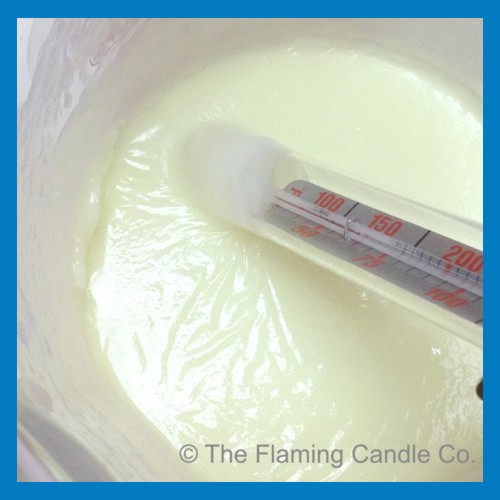 9. At about 140°F (temps can vary based on your particular atmospheric conditions) – begin pouring from both measuring cups into soap cavities. You will see the colors swirl.
10. **If soap hardens up as you pour, simply pop back into the microwave for about 10 seconds to melt (see picture below for how soap will look once it's hardened too much - notice the consistency is now like a thick body butter lotion). Swirling soap can be challenging with melt & pour bases, but it can be done!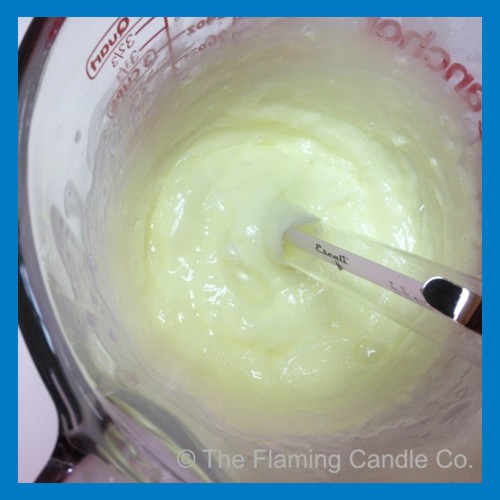 11. After re-microwaving if needed, continue pouring as evenly as possible with both cups until all four soap cavities are full.
12. If bubbles are present when pouring (see pics below), simply spray with rubbing alcohol to dissolve. 2-3 sprays should work.
Pic A: Bubbles after pouring soap into mold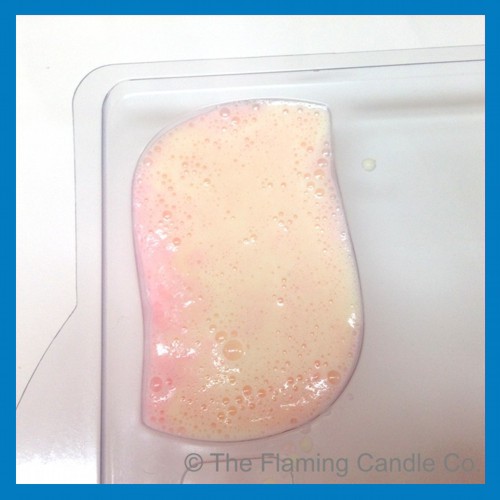 Pic B: After spraying with a water/alcohol solution, the bubbles have mostly disappeared.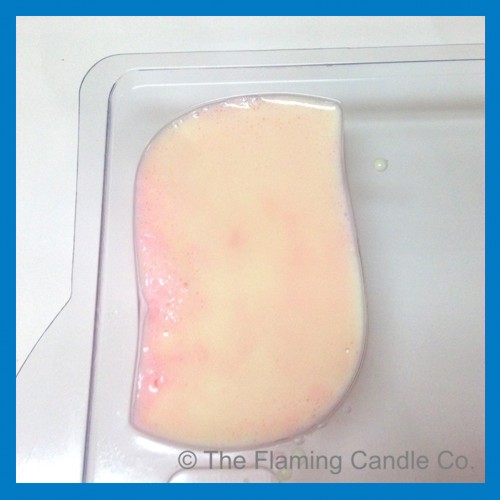 13. Cool overnight and carefully remove by turning mold upside down and pressing lightly with thumbs until soap slides out.
14. To prevent sweating, package in breathable material.
That's it! Now, enjoy your summer soap!